Technology & Tradition Aliance
FROMFROID is the specialist in air treatment for Cheese making
Air flow management in your production facility and air treatment is FROMFROID speciality. Our engineers accompany you throughout your project to ensure utmost quality of the product while optimizing energy consumption.
Air flow management in ultra clean
In order to reduce contamination in your plant, air flows and treatment  must be addressed and oriented properly.
For 50 years FROMFROID has developed experience in the treatment of air and air flow to inhibit contamination while guarantying the specific air requirements for your product.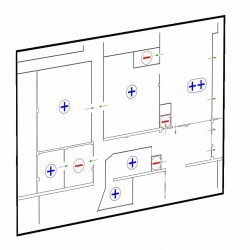 In order to guaranty the best production of air in a cheese making room FROMFROID has developed a wide range of air handling equipment particular to your specific formula in temperature, humidity level and circulation methods. Gaseous concentration and specific temperature is controled with high quality stainless steel equipment which assure a very clean hygienic performance.